---

Thu Apr 26 2:44:00 UTC 2018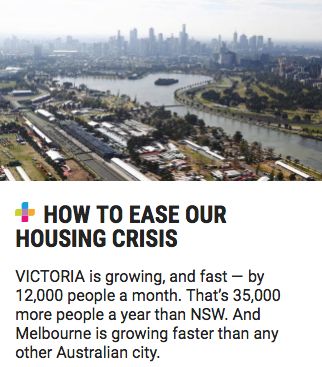 Excerpts from a Herald Sun article supporting the Smart Urban Villages long-term-lease approach: "Research by PwC revealed that one in three Australians is in the rental market. For these people, rental affordability, quality of accommodation, a sense of community and the length of residency were key concerns."

"BTR, is a solution that has worked in the United Kingdom and the United States, where hundreds of thousands of BTR homes are built each year. Some of Australia's major developers, such as Lendlease, are BTR sector leaders overseas. Here, Mirvac, Stockland and Grocon are also primed to enter the market. Think scores of apartments. BTR provides better homes more cheaply, and with a greater security of rental tenure."
"Funds that invest in build-torent also have an incentive to further improve maintenance and energy efficiency ahead of the market because they are present over the lifetime of the communities they create."
"The NSW government has found 50 per cent of renters in Australia move home every two years, more than in any other advanced economy. The need for greater diversity of affordable housing options has the NSW and Queensland premiers and treasurers looking at BTR. Helpfully, so is the Victorian government."