---

Mon Aug 17 0:09:00 UTC 2015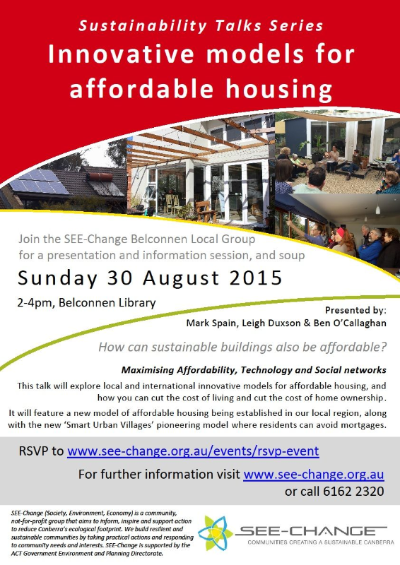 Smart Urban Villages has been invited to present at the "Innovative Models for Affordable Housing" event on 30 August 2015. Come along and hear how the Smart Urban Villages model delivers a pioneering affordable living solution, through efficient designs, shared facilities and long-term term thinking.
To find out more or book click here: http://www.see-change.org.au/event/innovative-models-for-affordable-housing-sustainability-talks-series/
The event is part of the Sustainability Talks Series run by SEE Change, a Canberra not-for-profit community group, whose mission is to inspire, inform and support action to reduce Canberra's ecological footprint, improve the resilience of the ecosystem and enhance the wellbeing of all individuals.